Bently Spang
Stratum Reset
PROJECT Description
Stratum Reset
8:30pm | Saturday, August 17, 2019
In this soon to be demolished space, Bently Spang presents a new performance work that flips the persistent myth of 'The West' on its ear revealing the even more persistent layer of Native existence that never left this place. Accompanied by a soundscape work created by his son Troy Spang, an accomplished musician, he creates a contemporary cairn of sorts, a marker, to reset the understanding of this place on the earth as it moves into the next stage and remind the viewer of the true complexity of place.
The Gallatin Valley is historically a place of gathering for many Native nations, providing sustenance for us on many levels. The confluence of the 3 rivers that form the Missouri headwaters in this valley attracted tribes who all agreed to lay down their weapons so that all could benefit from the resources in this area. And, our continued presence here is evidence of the power of our cultures and I want to celebrate that power and our convergence with different cultures here in this place of convergence where rivers, food and life all come together. I want to unearth our layers of the past on this land, decolonize those layers as best we can through an art action and combine it with today's layer. This can potentially embolden and strengthen us as Native peoples and, at the same time, provide deeper insights into our uninterrupted existence for the non-Native community.
And, as we speak, another layer of experience is being readied for this specific place on the land with the coming development. So, this time of transition is a fitting time to approach this land differently, to honor the past and look to the future and acknowledge all the cultural experiences on this land. Too often, Native cultures existence in these places and our continued presence on this land is ignored or framed by non-Native experts outside our community. We've become invisible on this land, as evidenced in the recent First Nations report called Reclaiming Native Truth.
'Invisibility: Unsurprisingly, another key finding was that Native Americans are assigned to a romanticized past. However, one of the biggest barriers identified was the invisibility and erasure of Native Americans in all aspects of modern U.S. society. Respondents, including members of Congress and administrative officials, agree that invisibility, stereotypes and narratives set by others do impact policy.'
This performance at Tinworks Art is a chance to help restore this often overlooked layer of Native history in this place of power for many Native peoples and connect it to the uninterrupted continuum of Native existence that I and other living Native peoples have always been a part of. And, to do so in a cross-cultural action that celebrates the power of culture and creates the potential for resolution and moving into the future in a new and more culturally unified way.
— Bently Spang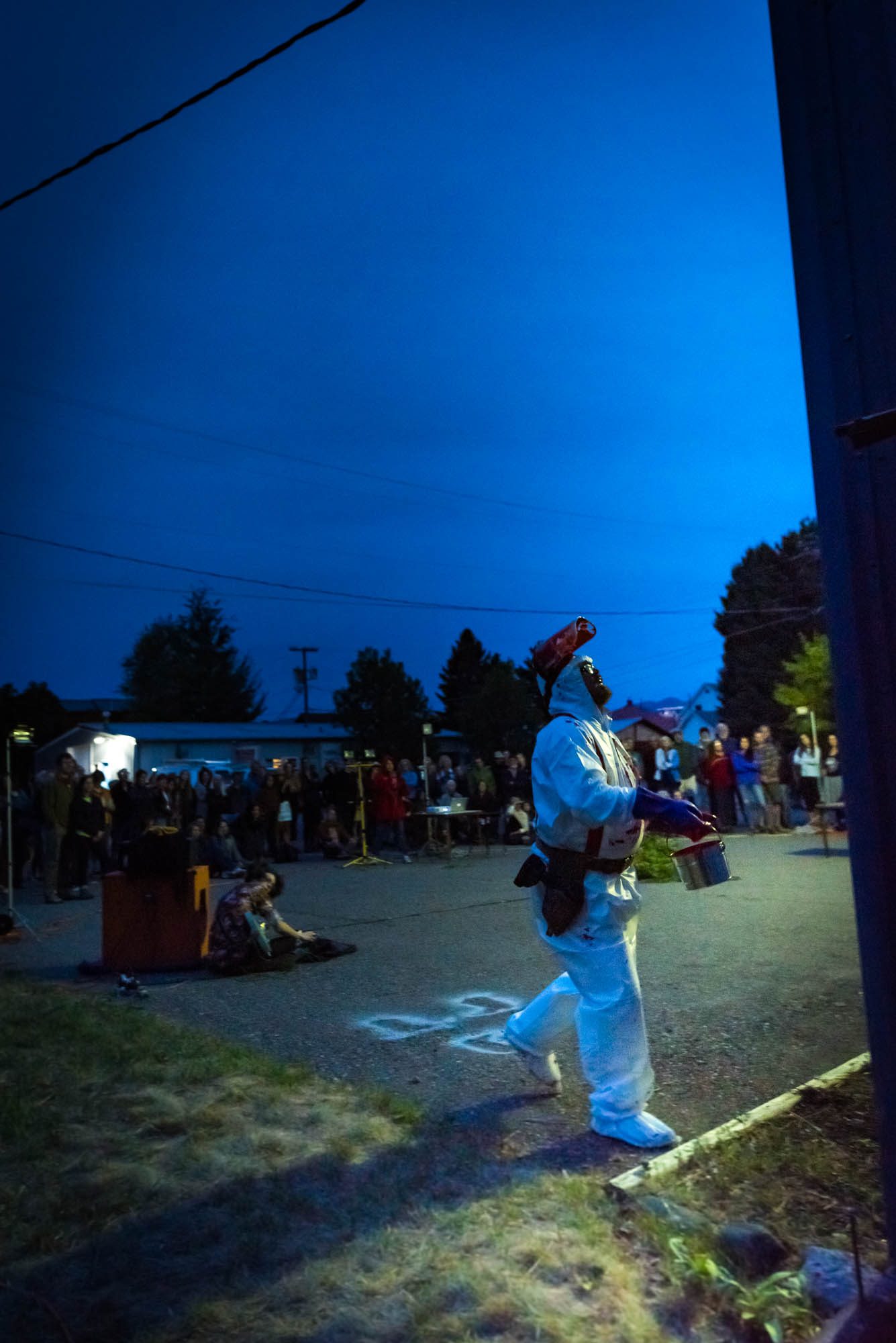 ABOUT THE ARTIST
Bently Spang is a multi-disciplinary artist, curator, educator and writer working in mixed media sculpture, video, performance, and installation. He is also an enrolled member of the Northern Cheyenne Nation in Montana, the home of the Tsistsistas/Suhtaio people. Years of exposure to the contemporary and historical artwork of his people, in both community and museum contexts, have helped the artist understand his role as a contemporary Tsistsistas/Suhtaio artist. Just as his relatives in the past did he deliberately expresses himself in a wide variety of mediums, modes of expression and thematic directions, refusing to limit his work to singular directions, material categories or thematic structures.
Spang seeks to express his experience as a contemporary Tsistsistas/Suhtaio, creating a document of this time period for future generations just as his relatives in the past did for the current generations. In so doing, he embraces the complexity of the contemporary and historical issues surrounding cultural identity and place, exploring the inevitable concerns that arise—personal, communal, environmental and cultural—when the two converge. The artist's ongoing relationship with his reservation homeland is often a central element of his work, and he and his people continue to devise strategies to meet the challenges of today and ensure the survival of the Tsistsistas/Suhtaio people.
Spang's artwork is in museum and private collections in the US and Europe, and he has exhibited widely in the US, Europe, Mexico, Canada, and South America. Museum collections include the Denver Art Museum, National Museum of the American Indian and the Montclair Art Museum.
Currently Spang works as an independent artist and maintains a studio in Billings, Montana
— Yellowstone Art Museum
Website: BentlySpang.com